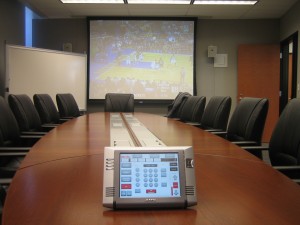 Control System Design
ICB offers an in-house programming department which designs and implements software for control systems.
We currently provide programming design for AMX, Crestron, and Extron control systems.  Our programming capabilities allow us to provide programming for additional systems as and when necessary.
Most AV systems today are complex enough that they require a sophisticated level of control to ensure that all devices are selected, switched , and displayed.  Operating an individual remote control for each device is no longer an option.
Making a system work simply and seamlessly for the user requires a high quality of design. At ICB, we pride ourselves on working ceaselessly with our customers to ensure that we design systems that work the way you need them to.