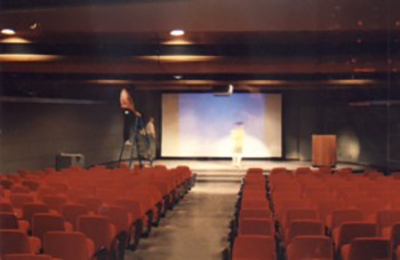 Auditorium
A major conference facility installation at this pharmaceutical company involved design and installation of audiovisual systems, lighting, and AMX control technology in a 300 seat auditorium and a large connected meeting room. Both rooms were managed from a control room located between them.

The AV systems were set up so that the rooms could be used independently or in combination.  A third room in another city could also be patched in when video conferencing was needed.

Typically in a three room set up, the auditorium was the main presentation room with the meeting room being used for overflow crowd. The remote site would mirror the main presentation room.

The objective in use was that the presentation could be seen and heard in all three rooms and questions from any of the locations could also be seen and heard by all.

Consequently this installation was zoned for multiple sources with close attention being paid to ease of control and avoiding audio feedback or switching issues.

Although all major events were managed from the control room, each room could switch to user control at the podium for presenters who wished to control their own stage. This local control also was used for simple unmanaged uses of the rooms.