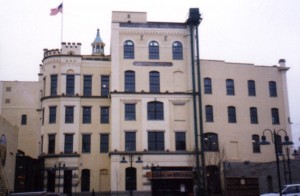 The Brew Works Bar
The Brew Works was a 160,000 square foot retail/entertainment complex located in the historic Bavarian Brewing Company building in Covington, Kentucky. Unfortunately, this wonderful concept was relatively short lived and the site has since been occupied by a regional entertainment chain.
Among the original project's many claims to fame was a beer selection in excess of 2000 brands (probably the largest in the world), single malt whiskeys, their own microbrewery, humidor, entertainment stage, coffee house, restaurant, beer garden, gift shop, and a massive wine, beer, liquor, and party goods retail outlet.
The emphasis was on quality throughout the complex, so superior brand audio and video components were installed by ICB to provide a truly excellent audio and video environment.
The distributed sound system featured a unique remote switching and level control system which permits personnel in each one of the 24 zones to select their own preferred sources and sound levels by means of local controls wired into a computer bus strung throughout the building.
This system also permitted zoned paging from any telephone in the building to any audio zone. 16 audio sources were available on the system including 120 channels of satellite DMX, AM, FM, CD, cassette, DAT etc.  The video system offered satellite, off-air, VCR, and laser disk sources again selectable in every zone. The complex also included a recording studio and live sound stage.