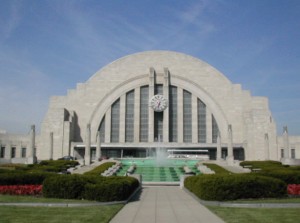 Cincinnati Museum Center
The sophisticated control systems used today for audio-visual applications only started to become available towards the end of the 1980's. These include AMX and Crestron Control Systems Technology.
ICB immediately embraced this technology and by 1991 were performing advanced installations of high caliber. The Cincinnati Museum Center at Union Terminal was one of ICB's first customers to take advantage of ICB's expertise in this technology. At that time ICB provided fully automated control of 17 audio-visual exhibit areas.
The main exhibit featuring A/V Control System Technology is a full-size recreation of the original Cincinnati Public Landing, all locations managed by a single AMX Control System, providing centralized control of all exhibits.
All of the exhibit locations run on either automated cycle or local push-buttons, or from infrared proximity sensors. Wireless controllers can override audio-visual systems at any time to allow tour guides to do live presentations. Some of these exhibits require synchronization of audio, video and lighting effects.  ICB Audio & Video continues to provide support, service and upgrades to these and other display systems to this day.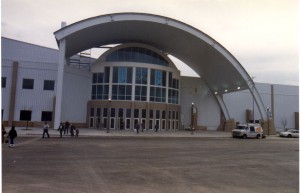 Museum Installation
This Museum in Kansas City comprises a series of walk through exhibits each with an independent program but controlled from a centralized AMX Control System. All exhibits can be powered off and on from one central control panel.
The control cabinet for the system is centrally located and contains the main system intelligence in the form of an AMX Axcess control system plus much of the source equipment and amplification.
Video players are software modified to eliminate the command display and to customize the display to designer requirements for non-video portions of the presentations.
At the entrance to the museum two video monitors, each in its own kiosk display information for visitors. Both are switched into repeat modes at the start of the day.
In the "Parade" portion of the exhibit hall, two speakers create a stereo image of the band music, one located on each side of the band. Two other speakers located over entrance doors from the kiosk area create a single channel of ambiance for crowd noises.
In the "Meet The People" exhibit, the visitor is able to select a person they would like to learn more about and see and hear their story with accompanying light changes and effects.
In the "Put Yourself In The Ring" interactive display, the visitor is seated upon a horse saddle. The camera views the visitor against a Chroma-key blue background.  The video of the visitor is superimposed upon an active video scene source from the video player.
Other exhibits include speakers for music and sound, video playback, and other automatic playback devices for exhibit applications.