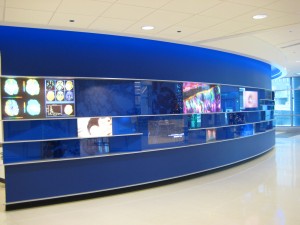 Panoramic Video Wall
This Extensive Video Wall greets you as you enter the reception area of a massive 11 story building.
All live video components of the wall were installed by ICB Audio and Video. They comprise flat screen TVs, commercial DVD players, and an Extron IP link system for control.
Extron's Global configurator software provides control of the wall. Energy and equipment saving features are provided by this system. For example, the system automatically turns off at the end of the day and on weekends.
Automatic power up is provided in the event of a power failure and the system is monitored to ensure it is on and functioning during operational hours. The system is connected to the internet so that external control and notification of system failure to external locations can be made.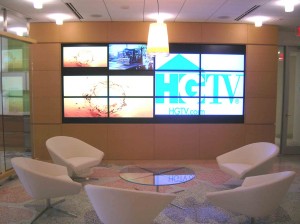 Video Matrix
This video matrix adorns the wall in the client reception area of a major national corporation.
The wall comprises of flat panel TVs mounted on a grid.
The video is controlled by a custom matrix switcher that has the capability of taking individual sources and routing them to one TV or any combination of TVs. Images can be shared across several TV's as is seen in the photo.
The matrix provides timed switching allowing sources to be switched on and off in an automated manner. Sequences of images moving from one TV to another can also be programmed.
ICB supplied and installed all the products and provided system programming.