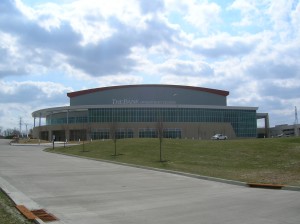 Entertainment Arena
This is Greater Cincinnati's newest 10,000 seat, state-of-the-art arena and entertainment destination. It hosts first class Concerts, Family Shows and a wide variety of Sporting Events.
The primary AV systems installation comprises a large Eastern Acoustic Works sound reinforcement system covering the Arena, and distributed sound and communications in other areas of the venue.
The system is managed from a control room up at the balcony level.  In this area a mixing console is located looking out over the arena and towards the rear of the balcony are the equipment and amplifier racks.
The system is managed by a digital processor, which is programmed from a computer via RS232.  Sound system presets installed in the processor are selected as needed depending on the type of event