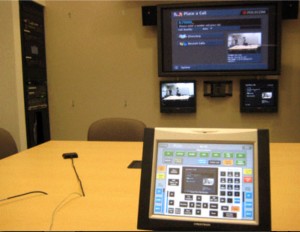 Foyer, Video Wall & Videoconferencing Suite
Hospital Installation

This 11 story building showcases extensive audiovisual capabilities all of which were installed by ICB Audio and Video.
There are three AV enabled conference rooms on each floor, an impressive video wall in the foyer, a sophisticated meeting room complex just off the foyer, and a video conferencing suite.
As you enter the building through the main entrance, a spectacular video wall greets you.
All live video components of the wall were installed by ICB Audio and Video. They comprise flat screen TVs, commercial DVD players, and an Extron IP link system for control.
Extron's Global configurator software provides control of the wall. Energy and equipment saving features are provided by this system. For example, the system automatically turns off at the end of the day and on weekends.
Automatic power up is provided in the event of a power failure and the system is monitored to ensure it is on and functioning during operational hours. The system is connected to the internet so that external control and notification of system failure to external locations can be made.
The video-conference suite, while hospital utilitarian in appearance, contains a significant level of sophistication.
The room is managed by a Crestron control system and the user interface is a custom programmed Crestron touch panel.