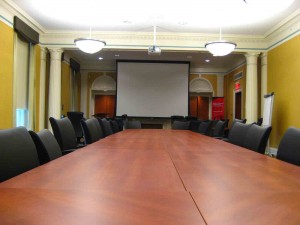 Teacher's College
The renovation of Teachers College has provided much needed offices, conference rooms, and teaching rooms for Staff, Faculty, and Students.  
The renovation provided a sensitive modernization of the historic building bringing new technology and natural light into all areas while recreating elements of the historic appearance of the building by installing replicas of the original lighting fixtures and repairing historic architectural details and plasterwork.
ICB designed and installed the AV systems for 3 conference rooms, a 50 person meeting room/conference room, a state of the art videoconferencing room, 6 classrooms, and the Library in this facility.