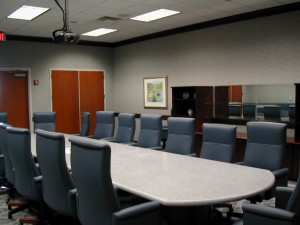 University Center
ICB engineered and installed all of the audiovisual systems in the University Center.
As part of the center package, the conference room is controlled by a very complex AMX control system and Media Matrix audio processing system.  This system controls 5 other conference rooms and two banqueting halls, with full interconnectivity between all locations. The boardroom contains video projection and a remote control panel. Any piece of source equipment whether cable, VCR, CD, computer, or cassette can be controlled from any room through a simple user interface. The design leaves the presentation rooms almost equipment free.
Other parts of the facility included 8 LCD video projection systems, 85 video monitors, a video production room, a bar, multiple private boxes, dining room A/V system, and multiple lounges, all operated by an extremely sophisticated control system.

Another element of this installation is a series of six conference rooms. Each of these rooms is combinable to create a larger room.  To achieve this purpose, there are three projectors per two rooms allowing either individual separated room operation with one or two screens, or combined room operation with up to three projection screens.
This project included also the sound reinforcement system for the arena.

In addition, ICB has performed countless other projects for the University over the past 15 years.