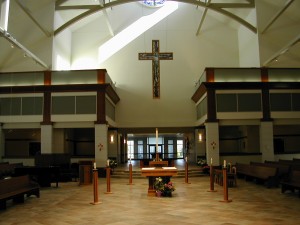 Catholic Church Design/Build
The church system was designed and installed by ICB Audio & Video. This design includes speakers and distributed sound to the main sanctuary, hallway, foyer/gathering space and day chapel. All speakers tie in to the main control in the sanctuary and can be switched on or off and routed, local or distributed, for any purpose.
EAW built custom speakers (EAW SS750) for this installation that feature high intensity horn drivers for long throw, tight field design for sound dispersion from a ceiling mount 48' high, and designed for minimal visual impact.  An EAW DX 810 Digital Systems Processor/Mixer features multiple scene control for program flexibility. This recently completed installation is versatile and was designed and built to suit the facility.